eRupiah: RBI's Virtual Cash
Key words: Central Bank Digital Currency, public key-private key cryptography, Digital currency wallet, Corruption,
Introduction: No currency has ever been used in the human history which did not have the stamp of an authority. Bitcoin is a medium of payment but it is not money for the same reason. Nonetheless, the technology underlying Bitcoin is a significant one with great potential. A central bank, issuer of paper currency, can use some selected components of Bitcoin technology to replace paper currency with virtual currency, retaining all the important features of paper currency. The most important of them is that a central bank note is a freely negotiable bearer bond and a legal tender in the hand of its holder. It does not require any third party verification. Counterfeiting a central bank note is not impossible but difficult and costly. The central bank neither authenticates any transaction made with that particular note nor does it keep any record of that transaction. The note remains as a liability on the book of the central bank till it comes back to it, either for reissue or its destruction. The physical nature of the note ensures that no double spending is possible with the same note by its current holder. In case of digital cash, the main issue that a central bank has to resolve is the issue of double spending without depending on third party verification of the same. What follows hereunder is an outline of a system that any central bank can implement to issue its own currency retaining most, if not all, of the desired properties of a paper currency.
I am presenting below a system based on digital currency on a mobile phone. There is no compelling reason to believe that the same system cannot be implemented on a specially designed smart card with embedded chip. The system outlined below is described within the currency management framework of the Reserve bank of India (RBI). With little tweaking the same can be customized by any central bank.
RBI Currency Management Framework:
RBI carries out its currency management function through its 19 Issue Offices located across the country. There is a network of 4281 currency chests and 4044 small coin depots in selected commercial bank branches. These chests store currency notes and rupee coins on behalf of RBI.  The note distribution mechanism is summarized in the following diagram.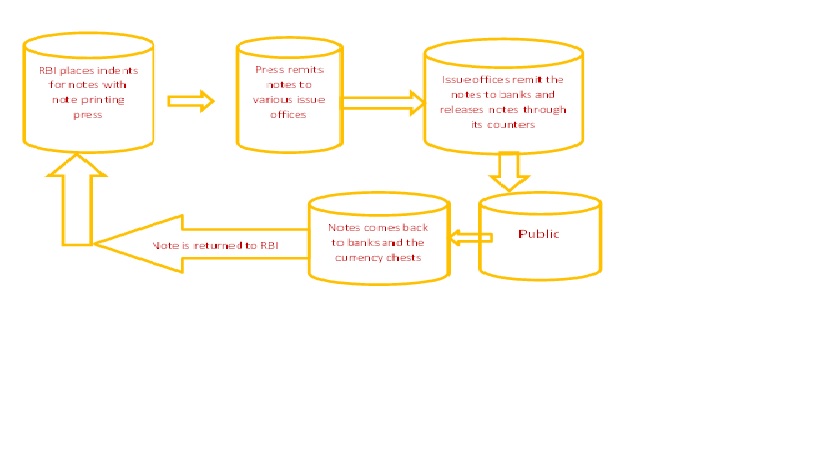 For issuance of digital currency, each currency chest would function as a data center for hosting the ledger book of notes issued from it.   Similarly each issue office of RBI would have a copy of the entire ledger book of notes. A folio would be opened in the note ledger book when the first time a specific note is issued.  Each data center will have complete inventory of wallets issued by RBI.
Every bank branch would have a digital cash dispenser. Any wallet holder would be able to replenish her wallet with digital currency by pairing it with the dispenser via Bluetooth or NFC communication channel.  Similarly every ATM would have similar facility. At the time of cash dispensation from bank branch or ATM would require Aadhaar based biometric verification of wallet.  For cash transfer between wallets of two individuals this verification is not a necessary requirement.
The protocol for issue of eRupiah
RBI would maintain ledgers of each currency note in a distributed database.
Currently RBI issues notes through its Issue offices. The distributed database will be created according to issue departments of RBI. Each Issue office of RBI will be able to issue new digital currency and destroy old digital currency. Destruction of old digital currency would help RBI to keep the number of entries in the ledger folio of a particular note within a limit. Every Issue offices would maintain record of all notes issued by it as well as copies of corresponding records of 3 neighboring Issue offices.
Each currency chest will have a database of notes received by it from RBI's Issue department.
Each currency chest will also have replicated database of its three nearest neighbor
The system will issue new digital currency when an account holder wants to withdraw cash from its account with RBI.
The account holder would specify how much of its cash withdrawal would be in digital form. This facility would be provided for an interim period when both forms of currency would be in circulation.
To incentivize issue of digital cash, RBI may reward with a fixed amount that could be related to the cost of producing physical cash.
RBI is banker to the Central and State Governments. It also functions as banker to the banks and thus enables settling of inter-bank obligations. These account holders of RBI would get digital cash in their Jumbo Wallet which would be a server in the account holder's custody. It would be like a till holding cash. An authorized person can withdraw e-Rupiah from the till as and when required.
The RBI's Note ledger would comprise ledger folios of each currency notes issued.
Each record in the Note ledger would comprise the following attributes: (1) a sequential no, (2) unique identity / sr no of a note, (3) hashed value of the note serial no, (4) identity of the issue department, (5) denomination, , (6) time stamp of transaction, (7) hashed value of identity of paying wallet (first time payer would be RBI), (8) hashed value of identity of receiver wallet, (9) active flag,   (10) hashed value of first 9  attributes , (11) hash value of the first 9 attributes of earlier transaction record of the same note. The identity of a wallet is described below.
RBI will also maintain database of each wallet downloaded from its website.
The wallet database will have a header record with the following attributes (1) IMEI no of each phone, (2) Aadhaar No of the phone owner, (3) timestamp of successful downloading of the wallet, (4) the GPS location of the phone at the time of downloading of the wallet, (5) a unique private key generated for each wallet and (6) the corresponding unique public key generated for each wallet. This data would also be hashed and encrypted with RBI's private key and will be part of the header record. RBI's public key would also form a part of the header record. The private and public key of each wallet would be generated by RBI at the runtime. The hashed value of attributes 1 to 6 would be the identity of each wallet.
Each wallet will have its own database of transactions. Each record in the transaction database will represent a note that has been loaded into the wallet. Each record will have the following attributes: (1) unique identity of the note, (2) note denomination, (3) digitally signed (with the private key of the paying wallet) hashed value of the concatenated string of serial no and denomination, (4) digitally signed ( with the private key of the paying wallet) hash value of concatenated string of attributes 1 and 2 of the header record with private key of payer wallet, (7) public key of the paying wallet, (8) timestamp of last transaction( i.e. timestamp of receipt of the note , (9) timestamp of the payment transaction, (10) payment status (paid or unpaid), (10) hashed value of the earlier transaction of the note(attributes 1,2,3,4,5).
A transaction between two wallets would involve "note data" transfer from the paying wallet to receiving wallet. Every note that gets transferred from the payer's wallet to the recipient's wallet would essentially mean transfer of the entire record from the former to the latter. In the process of data transfer two insert / update activities take place in the receiver's and payer's wallet respectively. The receiver's wallet inserts a new note record while the payer's wallet updates the concerned note's existing record.
Once the receiving wallet gets a new e_Rupiah note, it checks the authenticity of the note by calculating hash value of the concatenated string of attribute 1 and 2 of step at 13. In the payer's wallet the status flag would get changed to "paid" while in the receiver's wallet it would continue to have the status flag as "unpaid".
Any wallet would have a limit in terms of number of records / notes. When the database has reached its limit then the wallet would have to be uploaded to RBI and a new wallet has to be downloaded.
At any point of time a single wallet would be subject to 2 limits- holding limit of no of transactional records and total value of a single transaction. For a high value transaction two factor authentications would be required. (say above one lac). Both paying wallet as well as receiving wallet has to simultaneously establish connection with RBI and get their credential verified.
As and when no of records in a wallet's transactional database reaches its limit, the database has to be downloaded in an ATM or at a bank branch. The wallet would be purged of the all transaction records with status as "paid". The wallet holder then can download more E_Rupiah from an ATM or from a bank brunch. RBI will update its ledger book of individual notes thus uploaded from each wallet.
Any fraudulent transactions identified in the process of uploading would get notified and thorough automated forensic audit perpetrator of fraud would get identified.
Continue reading "Central Bank Digital Currency -a Blueprint"